Restore a Full Head of Hair with Hair Transplant Surgery in Farmington & Hartford, CT
Millions of men around the world suffer from thinning hair and balding in certain parts of the scalp. Whether you have difficulty growing hair or excessive hair loss, not having a full head of hair can make you feel less confident and less attractive. Hair loss can occur for a number of reasons, and at Connecticut Facial Plastic Surgery in Farmington, CT, our years of hair restoration experience can help you find a solution to look and feel your best.
While there are some non-surgical options that can help improve your hair thickness, such as PRP therapy and FDA-approved topical treatments, you may feel ready for a more dramatic transformation.  Our highly-skilled facial plastic surgeons are proud to offer hair transplantation, a transformative surgical procedure. Using one of two advanced techniques, we can restore your youthful appearance with a full head of hair!
What Is Hair Transplant Surgery?
Hair transplant surgery is the surgical repositioning of hair that you already have to balding areas of the scalp.  This procedure is highly effective at permanently restoring fullness to the hair in areas such as the top or front of the head.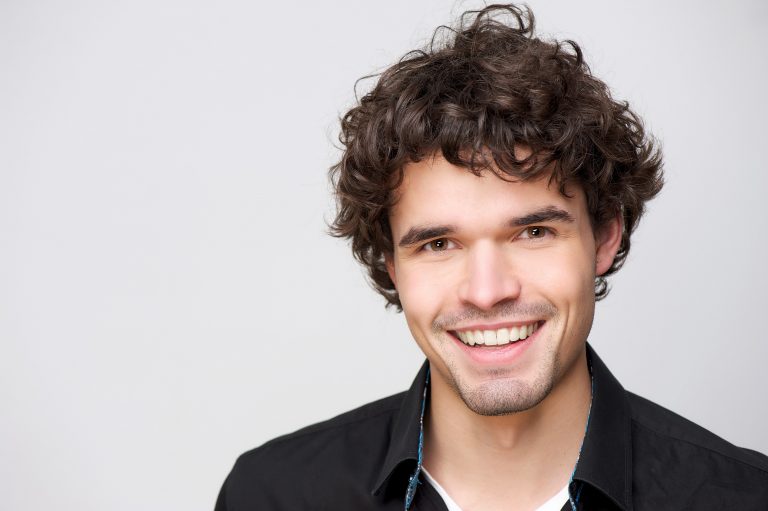 How Is Hair Transplant Surgery Performed?
Hair transplant surgery involves the surgical removal of your own hair follicles from an area of the scalp where your hair grows thickly.  For most of our patients, this is in the back of the head, towards the middle or bottom of the scalp. Your hair naturally grows in follicular units, or small clumps of one or more hair follicles.  Each follicular unit may contain a single hair follicle or up to 5 or 6 hair follicles.
There are two possible approaches to harvesting your hair for transplant. Using the strip method (also known as Follicular Unit Transfer, FUT), a small portion or strip of hair bearing skin is surgically removed from the back of the scalp, allowing for extraction of hundreds of hair follicles.  While FUT requires an incision that will leave a scar after the procedure, the scar is usually undetectable as it can be hidden underneath growing hair.
In contrast, follicular unit extraction (FUE) allows for individual extraction of follicular units from the donor area using a surgical punch technique.  The advantage of FUE is that no surgical incision to remove a portion of the skin is required, thus leaving no lengthy scar. In general, however, FUE takes longer to perform and can result in fewer hair follicles for transplant.
Once the donor hair follicles are harvested using FUE or FUT, they are transplanted to the area of thinning hair using small punches.  We use precise placement for each follicular unit, putting those with only one or two hair follicles towards the front of the hair line and those with more hair follicles further back in the scalp. This type of placement mimics natural growth patterns for superior results. Our highly-skilled surgeons are careful to create a natural-looking appearance with their placement of the follicular units.
Start your Aesthetic Journey Today!
Ready to schedule a consultation with one of our board-certified plastic surgeons? Click the link below to fill out your information and start for the next steps towards a new you!
What Can I Expect on the Day of Surgery?
Once you have arrived at our surgical center and have gotten settled, our excellent staff will begin preparing you for surgery and you will meet with your surgeon to go over your procedure and care instructions.
Your procedure will begin with a thorough cleaning of the scalp. Depending on which type of harvest surgery you have chosen, your hair may be cut close to the scalp. Your surgeon will then inject numbing medication in the back of your head where the donor hair follicles will be removed either using an incision to cut out a strip of skin or in individual punches. Once the donor hairs have been removed and the recipient site has been numbed, each follicular unit can be placed individually in a small hole made by a needle.
Hair transplant surgery is not a fast procedure, as your surgeon must carefully harvest and place each follicular unit.  Whether you are having hair transplant using FUT or FUE, it will take several hours to complete.
What to Expect After Hair Transplant Surgery in Farmington or Hartford, CT
You will have bandages in place after your surgery. You can expect that your scalp will feel very tender for a few days after surgery, and we will give you pain medication to enhance your comfort during this initial time of recovery. You may also take anti-inflammatory medication and an antibiotic at this time. You should be able to return to work within a week after the surgery, but you may have some restrictions on daily activities, such as vigorous exercise, for a bit longer to allow your grafts to fully heal.
Your recovery from hair transplant surgery will depend somewhat on which method of hair transplant surgery (FUT or FUE) you've undergone.  We will make sure that you have a clear idea of what to expect when you come in for your consultation and prior to your surgery. Regardless of the procedure you've chosen, we will also give you clear instructions on how to care for your hair grafts after surgery. It is important that you follow all instructions while you are healing to maximize your results.
Though you will notice an immediate difference in the appearance of your hair right after surgery, it will take some time before you can see your final results.  About one to two months after surgery, the transplanted hairs will typically fall out in a natural process called shedding. This is totally normal and should not cause alarm.  After each hair is shed, the grafted hair follicle will begin producing new hair that will grow at your natural rate of hair growth.  For most people, this is about one half inch of hair growth per month.
Though it can take some time for you to see your final results from your hair transplant surgery, your new hair growth will be permanent. Our patients say that it is worth the wait, as they are thrilled with their hair restoration surgery!
Why Choose Connecticut Facial Plastic Surgery for Your Hair Transplant Surgery?
We are a top provider of hair transplant surgery in Hartford County and Farmington, CT, and we've helped so many patients get their hair back through these procedures. Dr. Brook Seeley is a double board certified facial plastic surgeon and fellow of the International Society of Hair Restoration Surgery. As such, he has had years of experience and advanced training in the latest hair transplant techniques.
We are totally committed to the success of each of our patients and strive for them to achieve a natural look that they feel proud to have. All of our surgeries are fully customized to the goals and needs of each patient, and we will help you determine what approach is best for you. Choosing Connecticut Facial Plastic Surgery means that you can expect a wonderful experience throughout the process and superior results!