Rhinoplasty in Farmington and Hartford County, CT
Facial harmony and balance are essential to your beauty. A nose that is too large or too small can impact overall facial appearance. Cosmetic rhinoplasty is nose surgery that alters the appearance of the nose and can improve nasal function in some cases. Rhinoplasty can also repair damage, defects, or injury to the nose. At Connecticut Facial Plastic Surgery, Dr. Brook Seeley and Dr. Nicholas Karter perform rhinoplasty in Farmington and Hartford County, CT.
Interested in Rhinoplasty in Connecticut?
Contact Connecticut Facial Plastic Surgery to learn more about your options.
Start your Aesthetic Journey Today!
Ready to schedule a consultation with one of our board-certified plastic surgeons? Click the link below to fill out your information and start for the next steps towards a new you!
Table of Contents Click to jump to section
Specialized Rhinoplasty Connecticut
Rhinoplasty in CT improves the appearance of the nose and sometimes enhances breathing through the nose. We perform both cosmetic and functional rhinoplasties to meet patients' needs. Many of our rhinoplasty surgeries offer an improvement to each of these areas. Our rhinoplasty specialists in Connecticut have performed many nasal procedures and are adept at addressing both cosmetic and functional complaints.
Rhinoplasty in Connecticut corrects many aesthetic issues, including:
Humps or bumps on the bridge of the nose
Depressions on the bridge
Nose size too large or too small
Asymmetry
Nostril size, shape or position
Bulbous, drooping, upturned, or hooked nasal tip
Wide nasal bridge
Nose surgery can also improve function, treating common concerns such as:
Schedule a consultation and explore the ways that rhinoplasty can benefit you.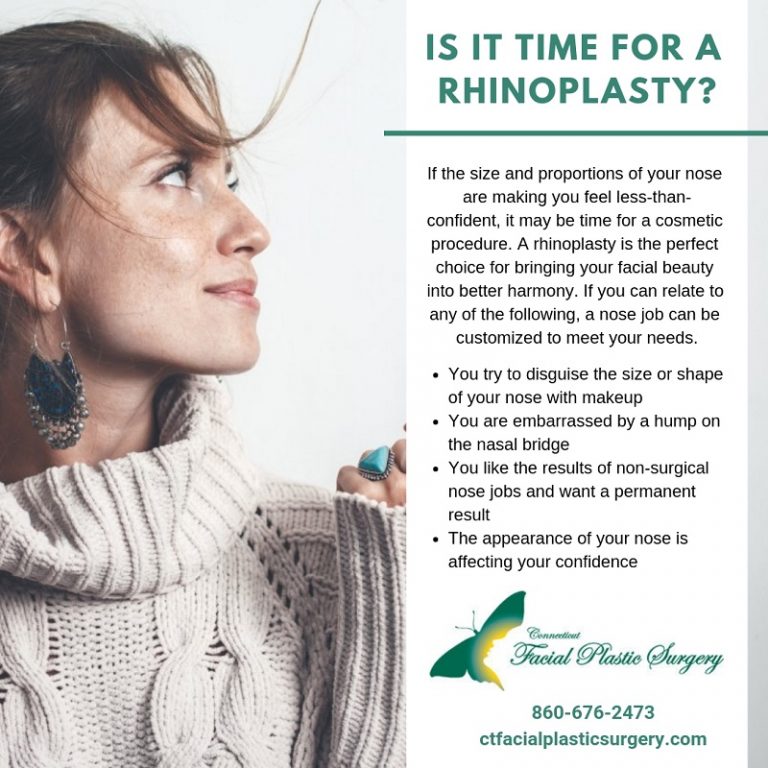 Rhinoplasty Basics: What You Need to Know
Rhinoplasty can provide a dramatic change in nasal appearance or a subtle tweak, depending on your preferences and what you hope to achieve with surgery. We customize treatment plans based on the desires, needs, and unique anatomy of each patient.
We start all rhinoplasty treatments with a consultation, so we can assess goals for surgery and explain options, expected results, and procedural benefits. We find that clear communication between the surgeon and the patient establishes the foundation for exceptional plastic surgery results. Prospective patients can easily schedule a consultation with our Farmington rhinoplasty specialists by calling (860) 676-2473.
An essential part of any consultation is the creation of a surgical plan. Once your surgeon understands your goals for rhinoplasty, they'll offer treatment recommendations and give you a better idea of what can be achieved through your procedure.
Your rhinoplasty in CT will consist either of an open or endonasal procedure:
Open Rhinoplasty
Endonasal Rhinoplasty
Open Rhinoplasty
Open Rhinoplasty uses a small incision on the columella to provide the surgeon with greater access and visibility of the interior nasal structures.
Endonasal Rhinoplasty
One of the most important considerations during rhinoplasty surgery is the preservation of the airway. Poorly performed rhinoplasty, a result of lack of experience on the part of a surgeon, can lead to breathing difficulties. We always perform rhinoplasty with the airway in mind, preserving breathing function and, in many cases, improving it. Our surgeons also perform revision rhinoplasty, a surgical procedure that corrects cosmetic and airway complications after a previous rhinoplasty. 
Our goal with any rhinoplasty is to deliver stunning aesthetic results and optimal nasal function. We want our patients to look and feel their best.
Interested in Rhinoplasty in Connecticut?
Contact Connecticut Facial Plastic Surgery to learn more about your options.
Rhinoplasty Recovery- What to Expect
Recovery after rhinoplasty varies, depending on the extent of the procedure and the surgical techniques used. We can offer a better idea of what to expect during your consultation. We always provide detailed recovery instruction before any procedure.
After rhinoplasty, your nose will be placed in a splint. Some patients will have splints inside of the nose to support internal nasal structures during the initial phases of the healing process. We do not use nasal packing during our rhinoplasties. We'll provide more detailed instructions regarding your external and internal nasal splints with the rest of your recovery information.
Bruising and swelling are expected. The initial swelling typically resolves in a few weeks, but some residual swelling may remain for up a year after your procedure. This residual swelling is subtle but does affect the final contours of your nose. It is common for the nose's appearance to improve and continue to refine for many months following surgery.
Downtime varies. Many patients take one to two weeks off from work or school after nose surgery. Patients that work at a desk will be able to return to work sooner than those working in labor-intensive positions.
Rhinoplasty Cost Connecticut
Rhinoplasty in Connecticut requires a special operation with several variables that can affect the total cost. The procedure can range anywhere from $2,000 to $10,000,  depending on the amount of correction needed and the patient's unique nasal structure. There are times when cosmetic issues are a concern, while other patients may require functional improvement. Either way, most patients see an improvement with both.
The best way to determine the cost of rhinoplasty in Connecticut is to schedule a consultation at CT Facial Plastic Surgery.
Alternatives to Rhinoplasty: Non-Surgical Nose Jobs
Although surgical correction offers a permanent improvement to the appearance and function of the nose, we realize that surgery isn't always the best choice for everyone. Some patients don't feel ready for an invasive procedure. Non-surgical rhinoplasty offers nasal enhancement using dermal fillers to reshape the contours of the nose. These fillers are a temporary solution but can deliver the desired results that you can maintain over time with additional treatments.
Patients considering non-surgical rhinoplasty must meet with a surgeon before the procedure. We want to ensure that patients understand what they can expect. Liquid rhinoplasty isn't for everyone but can help some patients to test drive the appearance of what a surgical nose job can achieve.
Comprehensive Facial Rejuvenation: Nose Surgery and Other Procedures
We perform rhinoplasty as a standalone procedure, but many patients choose to combine chin or cheek implants with a nose job to enhance their results. For instance, facial implants can aid in creating facial harmony and can complement the results of your rhinoplasty.
Chin Implants
Cheek Implants
Chin Implants
A weak or recessed chin may benefit from a chin implant. Typically made from a solid silicone material, these implants are placed over the chin bone, providing structure and definition. Chin implants are available in many shapes and sizes.
Cheek Implants
We'll discuss complementary procedures during your consultation if we find that you may benefit from them.
Rhinoplasty is the top cosmetic surgical procedure for patients between the ages of 13-19 in the U.S. It can be performed any time after the nose reaches its adult size. This occurs around the ages of 15-17, often earlier for females and later for males.
Prospective teenage rhinoplasty patients are welcome to come in with their parents for a consultation with our surgeons where we can assess physical and emotional readiness for rhinoplasty. Our surgeons are experienced working with patients of every age, from child to adult.
Schedule your rhinoplasty consultation with Dr. Karter or Dr. Seeley in Farmington and Hartford County, CT at Connecticut Facial Plastic Surgery today.