Rejuvenate with Facelift Surgery in Farmington & Hartford, CT
Facial aging can be very noticeable and many of our patients feel frustrated by the age-related changes that develop over time. The major signs of age – including deep creases and sagging of the face – can be treated with a surgical procedure known as a facelift, or rhytidectomy. Facelifting is one of the most popular surgical procedures at our practice and is expertly performed by our surgeons Dr. Brook Seeley and Dr. Nicholas Karter. Learn more about your options for facelift surgery by contacting Connecticut Facial Plastic Surgery at (860) 676-2473.
Interested in Face Lift in Connecticut?
Contact Connecticut Facial Plastic Surgery to learn more about your options.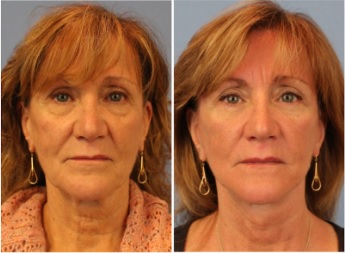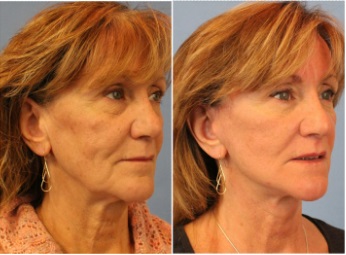 A facelift is a surgical procedure that treats age-related changes to the face. During the procedure, the underlying muscles and tissues of the face are lifted and fixed back into their youthful position. Excess skin and fat are removed, and the skin is redraped in a natural fashion.
A facelift restores a more youthful facial appearance, smooths away creases and hollows, and reestablishes definition along the chin and jawline. Results from this procedure are dramatic. A facelift is considered the gold standard option in facial rejuvenation, offering long-lasting results that cannot be achieved by non-surgical options alone.
The rejuvenating effects of a rhytidectomy are primarily focused on the mid and lower face. This surgery complements other facial plastic surgery procedures and, if needed, is often done in conjunction with other surgical procedures. For aging around the eyes, we can pair a facelift with an upper or lower blepharoplasty, which are types of eyelid surgery. Patients with sagging or drooping brows can also benefit from adding a brow lift.
Our expert team will provide the knowledge and surgical skill each patient needs to achieve their ideal appearance. With a variety of surgical and non-surgical offerings, we can help you find the right combination of treatments to meet your unique goals.
What can a facelift do for you? This versatile procedure addresses common signs of facial aging including:
Creases in the middle and lower face
Loss of definition in the lower face including the development of jowls and a double chin
Excess skin and fat on the face
Softening of facial contours
Shifted or displaced facial fat
Loss of facial muscle tone
A facelift is a transformative procedure and offers extensive rejuvenation. Our patients often look 10 years younger after surgery. Results are long lasting, and many patients enjoy the results from their procedure for many years or even decades. Although the procedure offers a dramatic change, patients still retain their natural appearance. Our goal is always to make you look like you, just ten years younger!
Start your Aesthetic Journey Today!
Ready to schedule a consultation with one of our board-certified plastic surgeons? Click the link below to fill out your information and start for the next steps towards a new you!
What to Expect on the Day of Surgery
We perform all surgical procedures at an accredited, off-site surgery center. On the day of your procedure, you'll arrive at the surgery center, usually in the morning. Someone will need to bring you to your appointment as you'll be unable to drive after surgery. There is a parking garage for the surgery center with direct elevators from the garage to the center.
After arrival at the center, you'll check in and you will be taken to the pre-op area. Facelift patients first wash their face and hair three times with an antibacterial soap. Then you'll meet with your surgeon in pre-op for any needed markings, a final review of the procedure, and important instructions about recovery. When it is time for surgery, we'll head into the operating suite.
A rhytidectomy begins with the placement of the surgical incisions. These typically begin at the temple, extend down in the front of the ear, around the ear lobe, and continue back behind the ear. Incisions may also be placed in or near the hairline. The location for these incisions is critical for minimizing scarring. These incisions hide well in natural skin creases and are very subtle once healing is complete.
Once the incisions have been made, the underlying muscle and connective tissue is lifted and restored into its youthful position. The skin is re-draped and any excess is removed. Finally, the incisions are closed and a secure dressing is placed. We commonly perform deep-plane facelifting as this offers the longest lasting, most natural-looking results; however, the technique is tailored to each patient's individual needs.
After surgery, you'll move into recovery where we carefully monitor you until you're ready to return home, usually 1-2 hours after your surgery. Someone will need to drive you and stay with you for the first few days.
After surgery, recovery begins and this is your opportunity to ensure good results from your procedure. Please follow all post-op instructions carefully and contact us if you have any questions. We'll meet with you throughout recovery to answer any questions and ensure that healing is progressing as expected.
Recovery After Facelift Surgery
Although very well tolerated, a facelift is a major surgical procedure and will require some downtime. Clear your schedule for a couple of weeks to ensure adequate time to heal. Patients often start to resume light activity just a few days after surgery and are back to most daily tasks, including work, about two weeks after their procedure.
On the day of your procedure you may feel tired and groggy as a result of the anesthetic medicine. Swelling, tenderness, and bruising are very common. The skin on the face may also feel tight and can appear pulled and puckered. This is all very normal and will resolve with time. We'll provide a prescription for pain medication to help you stay comfortable, though we find many patients do not end up needing it. Keep your head elevated and still as much as possible during the first part of your recovery to reduce swelling and maximize your results.
As soon as you're able, we encourage gentle walking. Getting up and moving slowly keeps the blood circulating, but be very careful and get assistance as needed.
Patients experience rapid healing in the first two weeks after surgery. The first couple of days are the most difficult, but each day gets a little easier. Resume activities slowly and wait until you're cleared by your surgeon to resume exercise.
Interested in Face Lift in Connecticut?
Contact Connecticut Facial Plastic Surgery to learn more about your options.
Getting Started with Facelift Surgery - What's the First Step?
Find out if facelift surgery is right for you. If you're considering a rhytidectomy, come in for a consultation and learn more about your options. We would love to meet you and help craft an individualized treatment plan to meet your unique needs! To schedule your consultation with Dr. Seeley or Dr. Karter in Farmington, CT or Hartford County, call our office at (860) 676-2473.
When you meet with us, we may be able to offer other ideas for achieving your desired look. Facelift surgery is often a good fit for our patients, but some may benefit from other procedures, including non-surgical options. We will partner together to make your aesthetic goals a reality.