Rejuvenate With Facelift Surgery in Farmington & Hartford, CT
Facial aging can be very noticeable and many of our patients feel frustrated by the age-related changes that develop over time. The major signs of age – including deep creases and sagging of the face – can be treated with a surgical procedure known as a
facelift
, or
rhytidectomy
. Facelifting is one of our most popular surgical procedures and is expertly performed by our surgeons
Dr. Brook Seeley
and
Dr. Nicholas Karter
. Learn more about your options for facelift surgery by contacting Connecticut Facial Plastic Surgery at (860) 676-2473.
Interested in Facelift in Connecticut?
Contact Connecticut Facial Plastic Surgery to learn more about your options.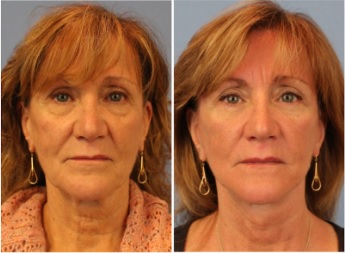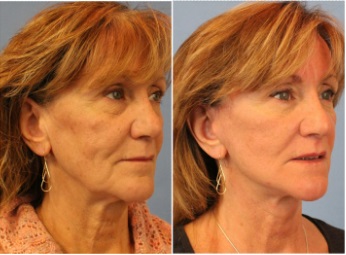 Discover why patients trust Connecticut Facial Plastic Surgery for their cosmetic and reconstructive treatment, from rhinoplasty and facelifts to brow lifts, injectables, and laser treatments. Read our Google reviews and experience exceptional care and outstanding results firsthand.
My experience with Dr. Karrer was wonderful! As an older patient, he calmed all my anxieties and made the journey exciting. No time is too late. He positively guided me through each step in order to achieve all my goals. Dr. Karter is top on my list! Love his new office too!!

- Linda Mancuso

Dr. Karter is a phenomenal Doctor who really cares about your well being and will go above and beyond to achieve exactly what you are looking for to get done. He is very patient and kind and actually listens. He took his time to explain everything that I would expect from start to finish and answered all of my questions. I never felt rushed in anyway even after the procedure. I am recommending him to anyone who is looking for a trusthworthy and honest Doctor that is Top rated in my book. His whole team is amazing as well! I am not sure of the longevity since I just got this done, but so far I am highly impressed! Thankyou so much Dr. Karter!!!

- Jackie

Dr. Karter has performed two procedures on me. First, I had a lower blepharoplasty and he did an awesome job!! It has been 2 years since and I am over the moon at how great they look! Second, I had a lower deep plane facelift, a platismaplasty, temporal brow lift and a lip lift. I am so happy with my results 6 months later. He is so gentle and caring about his work and really does an amazing job! He really knows what he's doing and explains everything to a tee. I can barely see my scars at 6 months and everything healed beautifully! He goes out of his way for his patients and actually came into the office to check on me on Thanksgiving day!! Can't beat that! Thanks so much to he and his staff for for everything!!

- Vicki Hogan

I recently had tear trough filler with Dr. Karter and he's the best. So personable, knowledgeable, and patient. Highly recommend!

- Hanada Hamideh

I recently underwent a rhinoplasty procedure with Dr. Karter & I can confidently say that I am beyond thrilled with the results. From start to finish, my experience with Dr. Karter & his team was top-notch.

Not only does Dr. Karter have a great bedside manner, but he was also incredibly knowledgeable & able to answer all of my questions & concerns before the procedure. He made me feel at ease & confident in his ability to deliver the results I was hoping for.

The staff at the practice were also amazing - Erin was friendly, attentive, & made sure I had everything I needed. They were a true asset to the practice & contributed to making my experience a positive one.

But most importantly, the results of my rhinoplasty are truly amazing. I am so in love with my new nose & it has truly boosted my confidence. Dr. Karter was able to achieve the exact look I was hoping for & exceeded my expectations.

Overall, I highly recommend Dr. Karter for anyone considering a rhinoplasty procedure. They have the perfect balance of excellent bedside manner, knowledgeable expertise, & a wonderful staff that will make your experience a positive one.

- Annie J

Dr. Karter did an incredible job with my chin lipo. Everyone in the office was super helpful and informative. I felt completely prepared for the surgery and was thrilled with the results. I couldn't recommend him enough! Worth every penny of the reasonable price!

- Sydney Giuliano

Great , doctor! He is kind , the environment is clean and calming. The staff is beyond amazing ! 5 stars out of 5! For sure !!!

- ashley larson

I've considered chin lipo for a while and impulsively booked a consult with Dr Karter. It was easily one of the best decisions I've ever made! He is incredibly kind and talented. I felt so comfortable here I didn't even make a consultation with any other surgeons. I ended up getting chin liposuction and a deep neck lift. I'm almost a month post op writing this review and still experiencing a little swelling which is normal but I could cry over how great my results are looking so far.

Both Dr Karter and his assistant Erin have been over the top accommodating when it came to booking my surgery and my recovery!!! They gave me their personal numbers and I never felt like I was bothering them with all of my questions lol I recommend him to everyone

- J

Very thorough information regarding options. Welcoming, relaxed atmosphere. Highly recommend!

- Dawn McCartan

Went I meet Dr karte for the first time I knew he was the perfect dr.he give you the confidence the support, he is so kind,I recommend Dr karter he's the best

- Maria

I am very satisfied with my procedure. Everything was so profesional and everybody at the office is very friendly.

- Julia Vázquez

The absolute best in every way! So, so happy! Nothing more needs to be said, except book an appointment with Dr. Karter, no need to look further.

- Anne C

PHENOMENAL, that is how I would describe my experience with Dr. Karter. He is a truly talented surgeon, and I cannot say enough good things about him and his staff. For the past 20 years I've always wanted a more pronounced jawline and it has always been an insecurity of mine. Over the past couple years of seeing myself on zoom meetings I'd become even more self-conscious and unhappy with my overall appearance, so I decided to do something about it, and I am so glad I did. From the minute I met with Dr. Karter for my consultation, I immediately felt comfortable. During our consultation I told him which areas of my face bothered me, and unlike other doctors I felt like he really listened. He offered several options and thoroughly explained the benefit of each. After that first meeting I cancelled all my other consultations because I knew had found the right Dr. I decided to do a chin implant, deep plane neck lift and buccal fat removal. Prior to surgery, his patient coordinator, Erin, made it a seamless process and an absolute pleasure to work with. I am now one month post op, and I am blown away with the results. I have never felt this good about myself; my only regret is not doing this sooner. Doing this is literally the best money I have ever spent on anything in my entire life. Thank you, Dr. Karter, for returning my self-confidence, I can't stop looking in the mirror, you truly are a genius.

- JP Gilbert

I found Dr. Karter by accident, and I'm so happy I did. My genetic double-chin was killing my self-confidence for years; as early as my 20s with my weight at 115 lbs. From the day I submitted an inquiry form online, I was contacted by a patient care specialist, Erin, who answered all of my questions and was very patient with me. I have a very strict work schedule and Erin went out of her way to be sure I could secure the date that I wanted.

This was a major surgery and decision, but I was completely comfortable with it. I had my procedure a little over a week ago and I am blown away by the results already. During the healing process, Dr. Karter and Erin have been amazing, responsive and very warm. They truly care about all of their patients. If you have a double-chin, do not settle for simple lipo or a neck lift without first consulting with Dr. Karter. He is one of the only surgeons in the state who is known for his deep plane face lift and you will not get these results elsewhere! I will post pictures when I am done healing, but I could not wait to write a review.

- Melanie Scarlett

He is an amazing surgeon and perfected my rhinoplasty! It was better than I could have imagined and truly changed my life. He is very knowledgeable and an artist with his craft. Would recommend to anybody.

- anife odai

I absolutely love the results that I see after my lower lid surgery! I was apprehensive at first, but Dr. Karter totally put me at ease! He answered all my questions and gave me various options for what I was looking for, and I am so happy now when I look in the mirror! Thank you so much Dr. Karter!

- Dawn Kaplan

Dr. Karter is an artist, an incredibly talented surgeon, and he helped me plan the right approach to get the results I was looking for, removing years of aging from a 58 year old to have a natural, healthy, youthful look. It is UNBELIEVABLE how I now look the age that I feel. It's so natural that my sister commented that I look like a much younger version of me. Thank you so very much Dr. Karter. I never imagined that the investment in surgery would have had such a huge impact on my life!

- Sherie

Always pleasant experience even tho I don't like needles but results are worth it all!!!

- Maria Higgins

I can't speak highly enough of Dr. KARTER's expertise and professionalism! I have tried few other places for Botox and Fillers and none came close! I highly recommend him to my family and all my friends.

- Julia Cordos

I am very grateful for having found Dr. Karter. He is a very skillful and talented doctor who I selected after reading his online reviews to administer my dermal injections. I will look no further as Dr. Karter is a truly compassionate doctor who listens to what you are trying to accomplish and answers any questions you may have before beginning the procedure.

- Gwenn

Dr. Karter is a wonderful and highly skilled surgeon. He patiently explained the procedures and made me feel at ease right away during my first appointment. Most importantly, he made me feel safe during my treatment.

- Dawn Hemard

A great experience! My daughter had her ears pinned and Dr Karter was caring, informative and supportive. The staff is top notch! Thank you!

- Kristen Kurtin

Dr. Karter is an absolute artist when it comes to rhinoplasty!

Ecstatic with my results, as they exceeded my expectations!

I look like me, just better!

Breathing is improved!

From the initial consultation, in depth details of what to expect, he answers all questions and concerns I had and made me feel very comfortable from the moment I sat in his chair.

Office staff is wonderful and very accommodating.

I would highly recommend him to anyone looking for a plastic surgeon!!

- Victoria Velez

I couldn't be happier with choosing Dr. Karter. You can tell he cares about his patients and it shows in his work. He's very detailed oriented which I love! His staff went above and beyond to make me feel comfortable and relaxed with the entire experience. I'd highly recommend Dr. Karter to family and friends.

- Aneta D

Dr. Karter is a highly skilled surgeon. I could not be happier with the results of my cosmetic procedure. From the initial consultation to the post-op visits, his professionalism, care, and attention was remarkable. Dr. Karter took the time to provide an in-depth discussion about the various treatment options, answer all of my questions, and provide an outcome that exceeded my expectations. The office staff is well-organized, polite, friendly, and highly accommodating. From start to finish, it was a great experience. To anyone looking for a plastic surgeon, I recommend Dr. Karter without reservation.

- Meg Gustafson

My daughter received exceptional treatment from Dr. Karter and his team. Her elective sinus surgery went smoothly and her recovery was quick. She was very comfortable! Dr. Karter is incredibly supportive and his work is impeccable. Highest recommendation!

- Denise Alfeld

I highly recommend Dr.Karter, He is so Knowledgeable and personable His work is as close to perfection as one can get!

- Kelly Stolarz

Dr. Karter is as close to perfection as one can get. He was so attentive and caring before, during and after my rhinoplasty procedure. I highly recommend Dr. Karter and would trust him with anything you're thinking about "improving"

- Ashley Fennessy

Dr. Karter did an amazing job in repairing the damage to my nose and septum incurred during a fall. He was professional, caring and very thorough in his explanations of the surgery and of the options I could pursue. I also used this surgery to help restore my eyelids to their original shape. His skill was very evident in restoring my natural looks.

- patricia hamilton

Great experience with Dr. Seeley and his staff. I am breathing so much better at night. I have not been suffering from my usual nasal congestion and one sided headaches. Dr. Seeley also fixed an aesthetic issue during my procedure and I could not be happier with the results.Thank you!!xx

- M Heartx

Dr. Karter has great bedside manner, very thorough, and he made me very comfortable from the moment he stepped into the consultation room. He thoroughly answered all of my questions before, during, and after my surgery. I never felt rushed during my post-op appointments and overall was given excellent care. He performed an otoplasty on me in January of 2021 (took me a while to finally write a review) and I couldn't be happier with the results. He gave me a new found confidence. Additionally, Dr.Karter as well as his office staff are very friendly and accommodating. He has my stamp of approval and I will be recommending him to anyone looking for a knowledgeable facial plastic surgeon.

- Maggie T

Dr. Karter did an outstanding job with my surgery. I could not be happier. His staff is awesome, everyone of them.

- Ken PESCATELLO

Dr. Seeley and his staff were excellent. They were caring, helpful and organized. Dr Seeley took the time to be very thorough about my procedure options for the results I was looking for along with pricing and availability. I felt confident in his abilities and felt comfortable sharing all my thoughts. After having my procedure I was elated with the results, I would highly recommend this establishment to all who inquire!

- jennifer arria

I am absolutely blown away at the results that Dr.karter was able to achieve on my chin liposuction! I cannot believe how incredibly professional and kind he was. He was able to explain everything to me so well that I had no problem understanding exactly what was going to happen. I cannot say enough good things about this whole office everyone is so kind as soon as you walk through the door! I will be recommending this office everyone!!

- Angel Ecker
Table of Contents Click to jump to section
A facelift is a surgical procedure that treats age-related changes to the face. During the procedure, the underlying muscles and tissues of the face are lifted and fixed back into their youthful position. Excess skin and fat are removed, and the skin is redraped naturally.
A facelift restores a more youthful facial appearance, smooths away creases and hollows, and reestablishes definition along the chin and jawline. The results from this procedure are dramatic. A facelift is considered the gold standard in facial rejuvenation, offering long-lasting results that cannot be achieved by non-surgical options alone.
The rejuvenating effects of a rhytidectomy are primarily focused on the mid and lower face. This surgery complements other facial plastic surgery procedures and, if needed, is often done in conjunction with other surgical procedures. For aging around the eyes, we can pair a facelift with an upper or lower blepharoplasty, which are types of eyelid surgery. Patients with sagging or drooping brows can also benefit from adding a brow lift.
Our expert team will provide the knowledge and surgical skills each patient needs to achieve their ideal appearance. With a variety of surgical and non-surgical offerings, we can help you find the right combination of treatments to meet your unique goals.
What can a facelift do for you? This versatile procedure addresses common signs of facial aging including:
Creases in the middle and lower face

Loss of definition in the lower face including the development of jowls and a double chin

Excess skin and fat on the face

Softening of facial contours

Shifted or displaced facial fat

Loss of facial muscle tone
A facelift is a transformative procedure and offers extensive rejuvenation. Our patients often look 10 years younger after surgery. Results are long-lasting, and many patients enjoy the results from their procedure for many years or even decades. Although the procedure offers a dramatic change, patients still retain their natural appearance. Our goal is always to make you look like you, just ten years younger!
Start your Aesthetic Journey Today!
Ready to schedule a consultation with one of our board-certified plastic surgeons? Click the link below to fill out your information and start for the next steps towards a new you!
Who Is a Candidate for a Facelift?
Ideal candidates for a facelift are individuals who are in good overall health and have realistic expectations about the outcome. Typically, those who are experiencing moderate to severe facial sagging, deep-set wrinkles, and loss of skin elasticity can benefit the most. Candidates need to be non-smokers or willing to quit before and after the procedure, as smoking can hinder the healing process. A thorough consultation with our board-certified surgeons at Connecticut Facial Plastic Surgery will determine if a facelift is the right choice for your aesthetic goals and individual circumstances.
What to Expect on the Day of Surgery
We perform all surgical procedures at an accredited, off-site surgery center. On the day of your procedure, you'll arrive at the surgery center, usually in the morning. Someone will need to bring you to your appointment as you'll be unable to drive after surgery. There is a parking garage for the surgery center with direct elevators from the garage to the center.
After arrival at the center, you'll check in and you will be taken to the pre-op area. Facelift patients first wash their face and hair three times with an antibacterial soap. Then you'll meet with your surgeon in pre-op for any needed markings, a final review of the procedure, and important instructions about your facelift recovery. When it is time for surgery, we'll head into the operating suite.
A rhytidectomy begins with the placement of the surgical incisions. These typically begin at the temple, extend down in the front of the ear, around the ear lobe, and continue back behind the ear. Incisions may also be placed in or near the hairline. The location of these incisions is critical for minimizing facelift scars. These incisions hide well in natural skin creases and are very subtle once healing is complete.
Once the incisions have been made, the underlying muscle and connective tissue are lifted and restored to its youthful position. The skin is re-draped and any excess is removed. Finally, the incisions are closed and a secure dressing is placed. We commonly perform deep plane facelift as this offers the longest-lasting, most natural-looking results; however, the technique is tailored to each patient's individual needs.
After surgery, you'll move into recovery where we carefully monitor you until you're ready to return home, usually 1-2 hours after your surgery. Someone will need to drive you and stay with you for the first few days.
After surgery, recovery begins and this is your opportunity to ensure good results from your procedure. Please follow all post-op instructions carefully and contact us if you have any questions. We'll meet with you throughout recovery to answer any questions and ensure that healing is progressing as expected.
Interested in Facelift in Connecticut?
Contact Connecticut Facial Plastic Surgery to learn more about your options.
Facelift Recovery After Surgery​
Although very well tolerated, a facelift is a major surgical procedure requiring some downtime. Clear your schedule for a couple of weeks to ensure adequate time to heal. Patients often start to resume light activity just a few days after surgery and are back to most daily tasks, including work, about two weeks after their procedure.
On the day of your procedure, you may feel tired and groggy as a result of the anesthetic medicine. Swelling, tenderness, and bruising are very common. The skin on the face may also feel tight and can appear pulled and puckered. This is all very normal and will resolve with time. We'll provide a prescription for pain medication to help you stay comfortable, though we find many patients do not end up needing it. Keep your head elevated and still as much as possible during the first part of your facelift recovery to reduce swelling and maximize your results.
As soon as you're able, we encourage gentle walking. Getting up and moving slowly keeps the blood circulating, but be very careful and get assistance as needed.
Patients experience rapid healing in the first two weeks after surgery. The first couple of days are the most difficult, but each day gets a little easier. Resume activities slowly and wait until you're cleared by your surgeon to resume exercise.
Getting Started With Facelift Surgery - What's the First Step?
Find out if facelift surgery is right for you. If you're considering a rhytidectomy, come in for a consultation and learn more about your options. We would love to meet you and help craft an individualized treatment plan to meet your unique needs! To
schedule your consultation
with Dr. Seeley or Dr. Karter in Farmington, CT, or Hartford County, call our office at (860) 676-2473.
When you meet with us, we may be able to offer other ideas for achieving your desired look. Facelift surgery is often a good fit for our patients, but some may benefit from other procedures, including non-surgical options. We will partner together to make your aesthetic goals a reality.