Table of Contents Click to jump to section
Ditch your Double Chin with Facial Liposuction in Farmington & Hartford, CT
Even when you're at a healthy weight, you may have unwanted facial fat. These stubborn fat deposits are difficult to lose, and diet and exercise often aren't enough. These stubborn areas of unwanted fat, depending on where they are located, can contribute to a double chin, jowls, or turkey neck. Wherever you struggle with excess fat, facial liposuction can help shape and sculpt those unwanted bulges away. We are pleased to be a top provider of facial liposuction in Farmington, CT or Hartford County.
Start your Aesthetic Journey Today!
Ready to schedule a consultation with one of our board-certified plastic surgeons? Click the link below to fill out your information and start for the next steps towards a new you!
Facial Liposuction vs. Body Liposuction
Many of our patients are familiar with body liposuction but less familiar with its facial counterpart. Liposuction has been used for decades to remove unwanted fat from the abdomen, torso, buttocks, and thighs. During fat removal, small incisions are made, and a thin tube is inserted just below the skin. Suction is applied, and the tube is used to remove excess fat. Liposuction must be carefully performed to ensure smooth, even results.
Facial liposuction is very similar to body liposuction, although on a much smaller scale. On the body, a surgeon may remove pounds of unwanted fat. On the face, we usually remove no more than a few ounces. We may not remove much fat, but the results are certainly transformative. By suctioning just a few ounces of fat away, we can erase that double chin and create a youthful and attractive facial profile. Removing a little fat can have a dramatic impact on your appearance.
Due to the small treatment area, few incisions are typically needed. Many patients will only receive one to two small incisions. These are placed in inconspicuous locations, often under the chin. Face liposuction also offers shorter recovery times than body liposuction, since the procedure is of a smaller scale and less invasive.
Areas Treated with Facial Liposuction
Facial liposuction is usually performed on the lower face. This is the area where unwanted fat typically accumulates during the aging process. We commonly perform face liposuction on the:
Jawline
Under the chin
Neck
Some patients receive treatment in multiple areas. Other patients may only target one specific facial zone. Double chin removal is the most popular use of facial liposuction.
After Face Liposuction in Farmington and Hartford County: What to Expect from Recovery
Recovery after face liposuction is a process with multiple distinct phases. Most patients find their recovery progresses quickly. We'll meet with you several times after your surgery to assess healing and answer questions.
Right After Surgery
A Few Days Post-Surgery
One Week Post-Surgery
Full Recovery
Right After Surgery
The first couple of days are typically the most difficult time during recovery. Swelling and tenderness are very common. These symptoms subside dramatically in the first few days. Over-the-counter pain medication is usually enough to control any discomfort.
A Few Days Post-Surgery
After a few days, most patients are returning to many regular activities. You may need to wear a supportive chin strap or bandaging to help hold the skin in place while you heal.
One Week Post-Surgery
A week after surgery, most patients feel good enough to return to work, provided they work in an office-type setting. There may be some residual swelling or bruising, but it is usually significantly less than right after face liposuction.
Full Recovery
You should be ready to resume most activities in a few weeks. Most patients are cleared to resume full activity, including strenuous exercise within four weeks of their procedure, often sooner. Some swelling may remain, but it should be minor and not easily noticed by a casual observer.
To help our patients prepare for face liposuction recovery, we provide detailed recovery information before the procedure. Patients are encouraged to contact us during recovery with any questions or concerns. If you experience any unexpected symptoms, we are always available.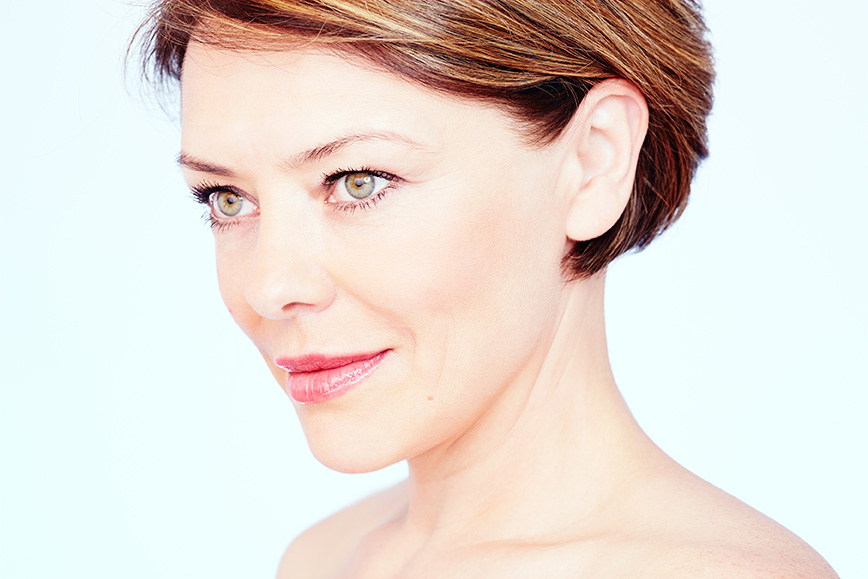 Perfect Pairings: Our Favorite Complements to Face Liposuction
Face liposuction is often combined with other surgical procedures. Since liposuction only removes fat, not skin, patients often benefit from the tightening and skin removal provided by a lifting procedure. Some of the most beneficial procedures to pair with facial fat removal include:
Facelift
Neck Lift
Facial Implants
Facelift
A facelift, or rhytidectomy, is a surgical procedure that tightens and rejuvenates the face. During a facelift, one of our surgeons will remove excess skin, lift and tighten muscles and other supportive facial tissues, and re-drape the skin, so it is smooth and taut. Liposuction paired with a facelift can completely transform the lower face and jawline, recreating youthful contours.
Neck Lift
For our patients with a turkey neck or double chin, liposuction and neck lift may be the perfect fit. A neck lift tightens loose skin under the chin and on the neck.
Facial Implants
Facial implants balance your appearance by increasing the prominence and projection of specific facial features. Implants are often used to correct a weak chin or flat cheeks. Facial liposuction can enhance the results from your implants by removing the excess fat that distorts youthful contours. For example, chin implants can often be enhanced with liposuction under the chin and along the jawline. By removing the excess fat, the implants can create the desired contours.
Facial liposuction can be performed alone in patients with good skin elasticity. If you already have loose skin, removing fat will often make it looser. A lift is needed to remove the excess skin to achieve a good aesthetic result.
Frequently Asked Questions about Facial Liposuction
Our facial plastic surgeons love answering questions. Good questions show that you're informed, engaged, and actively thinking about the procedure; these are the types of patients we love to work with. If you have questions, come in for a consultation, and we'll sit down with you one-on-one to discuss the procedure in depth.
Common questions about face liposuction include:
Is Facial Liposuction Painful?
Some discomfort is common after any surgical cosmetic procedure. Most patients can control any pain from the procedure using over-the-counter options. Prescription pain medication is rarely needed after this procedure.
How Long Do Results in Last After Facial Liposuction?
Liposuction permanently removes fat cells. These cells won't regenerate. While remaining fat cells can expand after treatment, the amount of fat in the area will not become larger. With proper weight maintenance, results from facial contouring procedure should last for many years.
Choose Connecticut Facial Plastic Surgery for Facial Contouring with Lipo
Connecticut Facial Plastic Surgery is a top provider of facial liposuction in Connecticut. We specialize in facial procedures, and our surgeons are both board-certified with advanced facial plastic surgery training. We perform many facial liposuction procedures each year and know how to achieve the natural looking rejuvenation you're seeking.
If you've been considering face liposuction in Farmington, CT or Hartford County, call Connecticut Facial Plastic Surgery at (860) 676-2473. Our skilled facial plastic surgeons, Dr. Brook Seeley, and Dr. Nicholas Karter love helping patients to erase unwanted double chins, turkey necks, and jowls through facial liposuction.