Rejuvenate Your Neck in Farmington, CT
Although many of our patients notice the effects of an aging face, most are susceptible to an aging neck as well. This concern may occur later with some and earlier with others. But whenever sagging skin, jowls, or a turkey neck appear, it affects facial beauty as well. Fortunately, there is aesthetic surgery that will deliver a sleek, slim neckline to enhance your facial appearance.
A neck lift tightens sagging skin, smooths banding, and restores a youthful jawline contour. It can also treat unwanted neck fat and eliminate a double chin.
Interested in Neck Lift in Connecticut?
Contact Connecticut Facial Plastic Surgery to learn more about your options.
Contact us to learn more about neck lift surgery in Farmington, CT. Our welcoming staff is waiting to show you the attention and skill that make Connecticut Facial Plastic Surgery one of your best aesthetic options in Hartford County.
Table of Contents Click to jump to section
How Aging Affects Delicate Skin on the Neck
It's common to notice the first signs of an aging neck after 40. Patients may see loose skin and a loss of definition below the chin and jaw. Cords or banding in the neck may become more evident as the paired muscles located on either side of the neck (platysma muscles) loosen over the years. Skin becomes less elastic, and many patients develop a turkey neck or loose, sagging skin under the chin. Jawline definition is lost, and the development of the unsightly double chin.
Our neck lift procedure addresses many of these issues leaving you with an appealing complement for your facial appearance. During your operation, we tighten loose skin, adjust the platysma muscle, remove excess fatty tissue, and reestablish youthful contours to the jawline and neckline.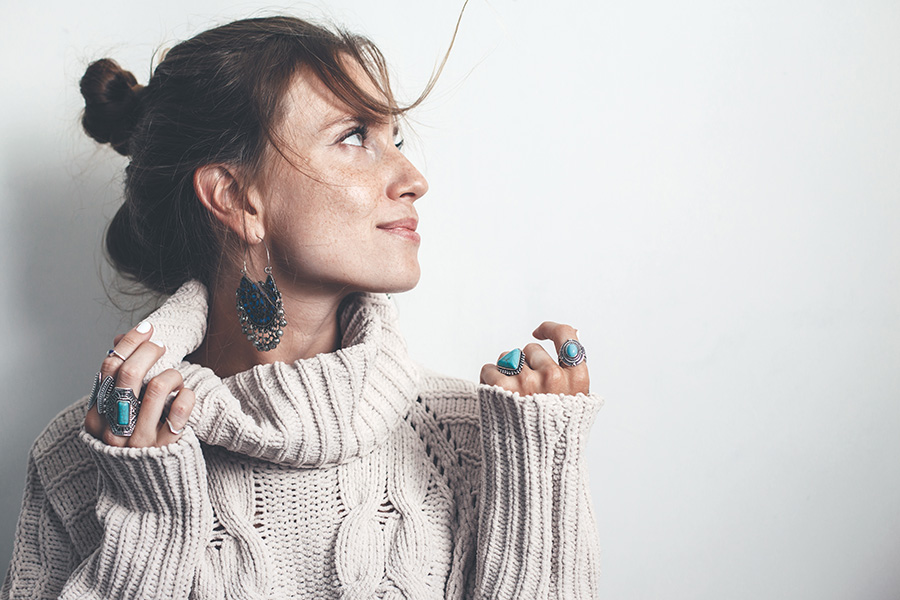 What Can a Neck Lift Do for Me?
It restores a youthful appearance to the neck and jawline. At Connecticut Facial, we commonly treat cosmetic issues, including:
A neck lift can be performed as a standalone procedure or combined with a facelift for total rejuvenation.
Start your Aesthetic Journey Today!
Ready to schedule a consultation with one of our board-certified plastic surgeons? Click the link below to fill out your information and start for the next steps towards a new you!
Your consultation will be with a board-certified surgeon at the location of your choice. They will provide you with the necessary information to make an informed decision. You can expect:
A thorough examination of the face and neck to determine the best treatment options for you
A discussion about your goals for the procedure, your lifestyle, and your expectations for neck lift surgery
A review of your medical history, including any medications you use
To discuss treatment options, including any non-surgical alternatives
Us to answer any questions you may have about your treatment plan
 A discussion about procedural costs, payment options, and what you can expect moving forward
To schedule your surgery, if you're ready to take the next step
Our surgeons strive to make your consultation visit as informative and stress-free as possible. Our goal is you leave with a thorough understanding of what to expect before, during and after your surgery.
Interested in Neck Lift in Connecticut?
Contact Connecticut Facial Plastic Surgery to learn more about your options.
Because a neck lift resolves multiple cosmetic issues and no two patients are alike, we customize the procedure to ensure optimal results. Although duration times vary, a typical operation is approximately two hours.
A neck lift is an out-patient procedure performed under general anesthesia. Your surgeon will make precise incisions in the treatment site to deliver the best results possible while minimizing the risk of scarring. Next, we reposition underlying tissue and remove excess skin. We conclude the operation by closing the incisions with sutures.  
You will spend one to two hours in recovery with most of our patient returning home the same day. Plan to have a responsible adult with you to drive you home and stay with you for at least one day.
Expect bandages in place on your neck when you wake. For the first few days you should rest. We will prescribe pain medication for your comfort as well as antibiotics to stave off infection. As with all surgery, expect bruising and swelling and some discomfort in the incision area. If you have any questions during recovery, please call.
Most patients take one week off from work, more if their job involves strenuous activity. After one month you can begin to resume exercise with caution. Your surgeon will give you a comprehensive list of dos and don'ts during recovery.
We offer a full complement of facial treatments and procedures to help you look your best. Some can be paired with a neck lift or done as a standalone procedure. They include:
Laser Treatments
Chemical Peels
Liposuction
Laser Treatments
Our cosmetic laser treatments can often be performed on the neck. These treatments can address hyperpigmentation and visible veins and vascular conditions. 
Chemical Peels
Liposuction
Visit CT Facial Plastic Surgery for your Neck Lift Treatment
Our board-certified surgeons are both trained in facial plastic surgery that creates natural and beautiful results. Dr. Brook Seeley is board-certified by the American Board of Facial Plastic Surgery; both he and Dr. Nicholas Karter are board-certified by the American Board of Otolaryngology- Head and Neck Surgery. Dr. Seeley is board certified and Dr. Nicholas Karter is double board certified in facial plastic surgery at Connecticut Facial Plastic Surgery. Whether you meet with Dr. Seeley or Dr. Karter, you can be certain that you are receiving the best aesthetic medical care available in state.